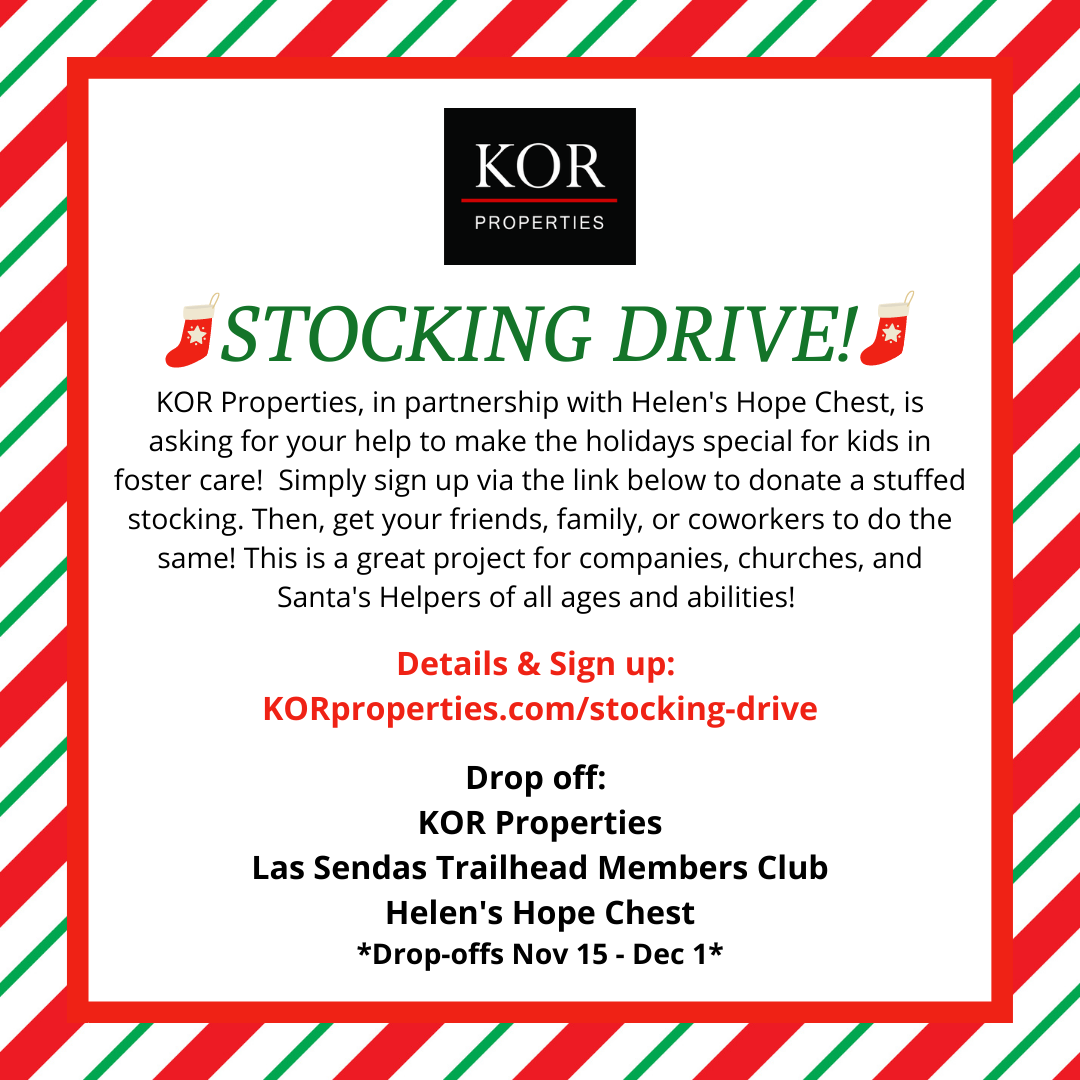 Stocking Drive for Helen's Hope Chest
How to be a Santa's Helper:
Click on the link HERE to sign up to stuff a stocking. You may choose from different age groups ranging from infants to teens.
The budget for each stocking should be $10-$12. Empty stockings are available for $1 at Dollar Tree and other dollar stores. Directions for what to put in the stockings are provided when you sign up. See the video below for all our tips and tricks and we have also included few photos of stockings we stuffed this week to help give you inspiration!
Stocking items should be new and unwrapped. Target, Dollar Tree, and Michael's have great stocking stuffers in their dollar sections, but they sell out quickly… so stock up early!
Label your stocking with the age group and gender so we can make sure they are delivered to the right child. We don't want to give an infant stocking to a teen!
*DONATION OPTION*
(Receiving donations until 12/1)
+ Donating to KOR Properties will not be tax-deductible
If you are unable to put together stockings for the KOR Properties Stocking Drive for Helen's Hope Chest, don't worry! You can always donate a stocking and our elves will put together stockings on your behalf. We can also pick-up checks so please contact our office.
Spread the holiday spirit by helping your community today!
Sign Up To Donate: helenshopechest.org/jakelle
*DROP OFF*
Drop off or request a pick up by December 1st! You may deliver your stuffed stockings to:

KOR Properties Office
4320 E. Brown Road, Suite 106, Mesa 85205
Helen's Hope Chest
126 E University Dr, Mesa, AZ 85201
Las Sendas Trailhead Members Club
7900 E Eagle Crest Dr
*Las Sendas Trailhead will start accepting drop-offs starting November 15*
Stocking Tutorial
Stocking Example –
Child Boys & Girls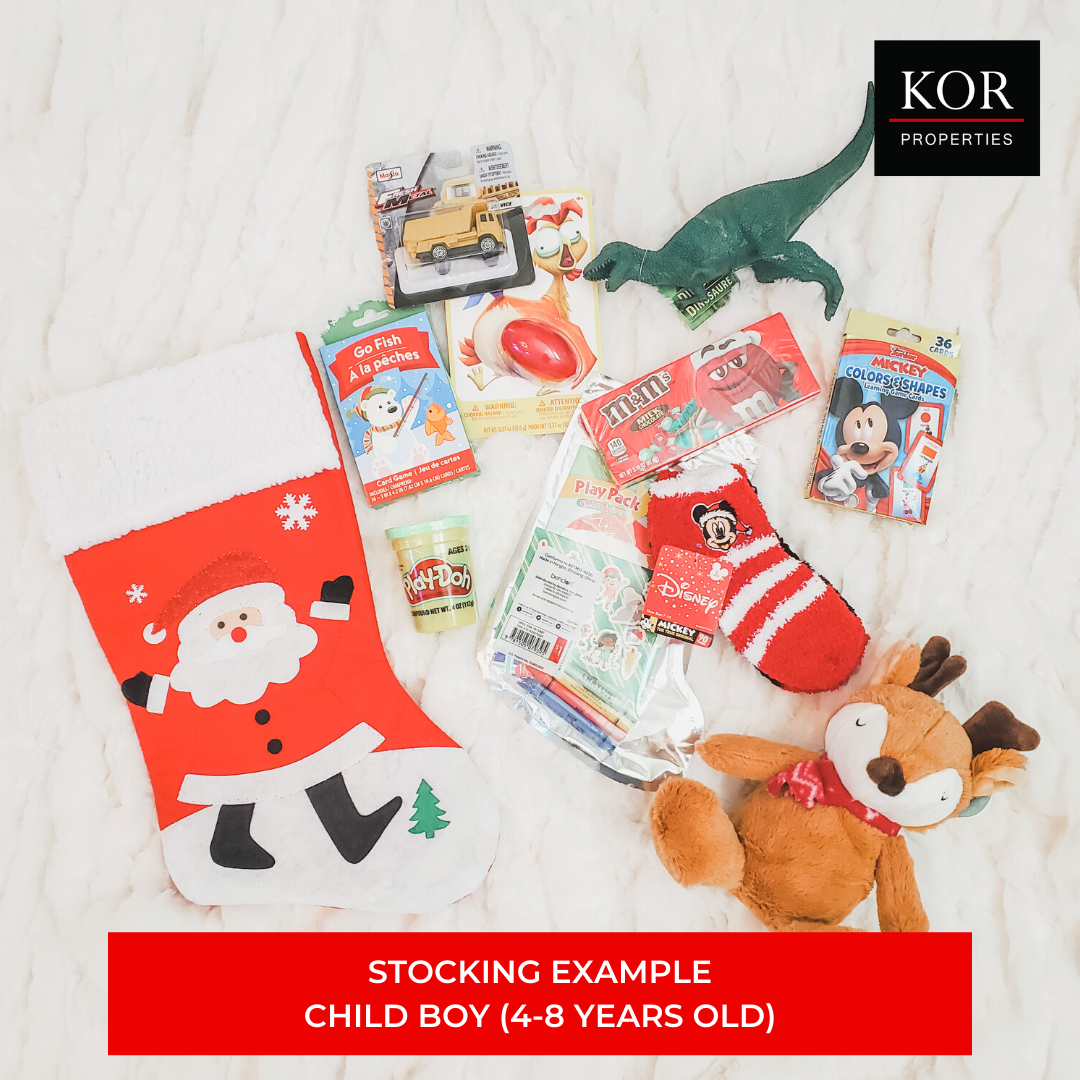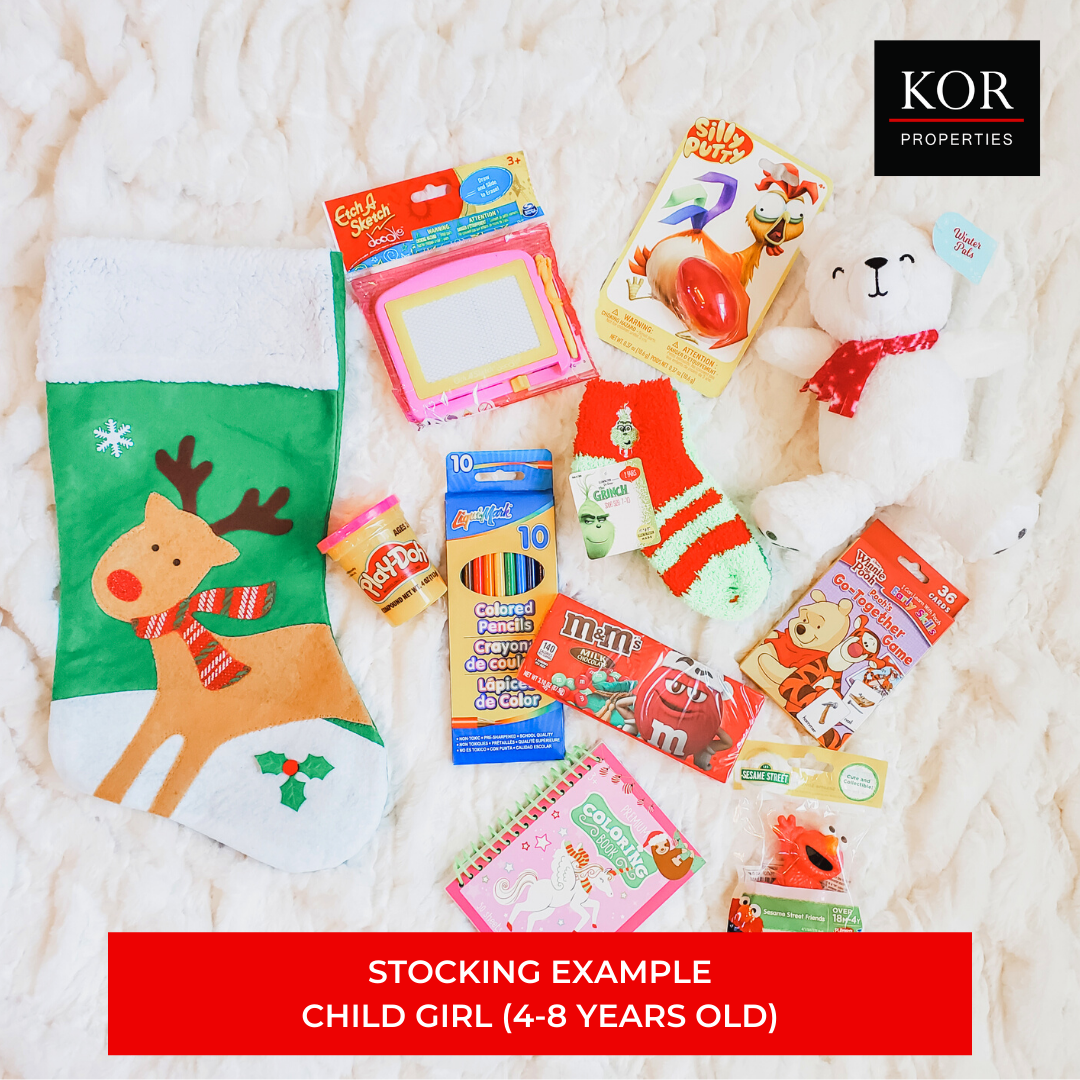 Items used in this stocking :
Stockings – Dollar Tree 17 " stockings work well
Small coloring books and activity packs – Target or Dollar Tree

Fuzzy Socks- Target or Dollar Tree
Silly Putty – Dollar Tree

Stuffed Animals – Target or Dollar Tree

Dinosaurs, Mini Etch-a-Sketch, Colored Pencils, Playdough, Elmo Characters, Matchbox Cars – Dollar Tree

Full-Size Boxes of Candy (no peanuts please) – Target or Dollar Tree
Stocking Example – Youth Girls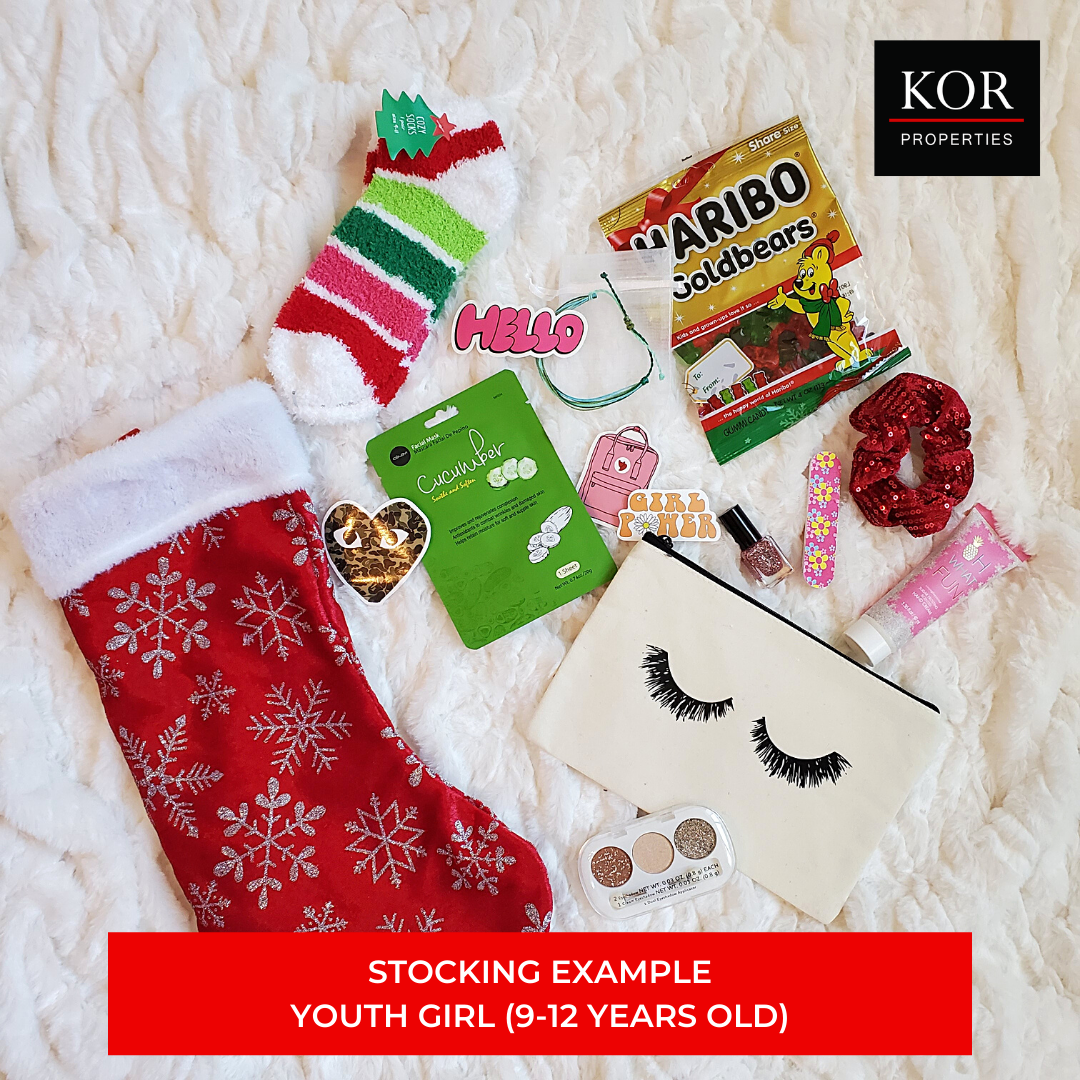 Stocking from Dollar Tree
Fuzzy Socks, Lotion, Scrunchie, Nail Polish, Eyeshadow, and Gummy Bears from Target. We broke apart holiday gift sets for some items and divided them among several stockings.
Makeup Bag, Bracelet, Nail File, Face Mask, and Stickers from Amazon. We also bought sets of many of these items and split them apart.
Stocking Example – Youth Boys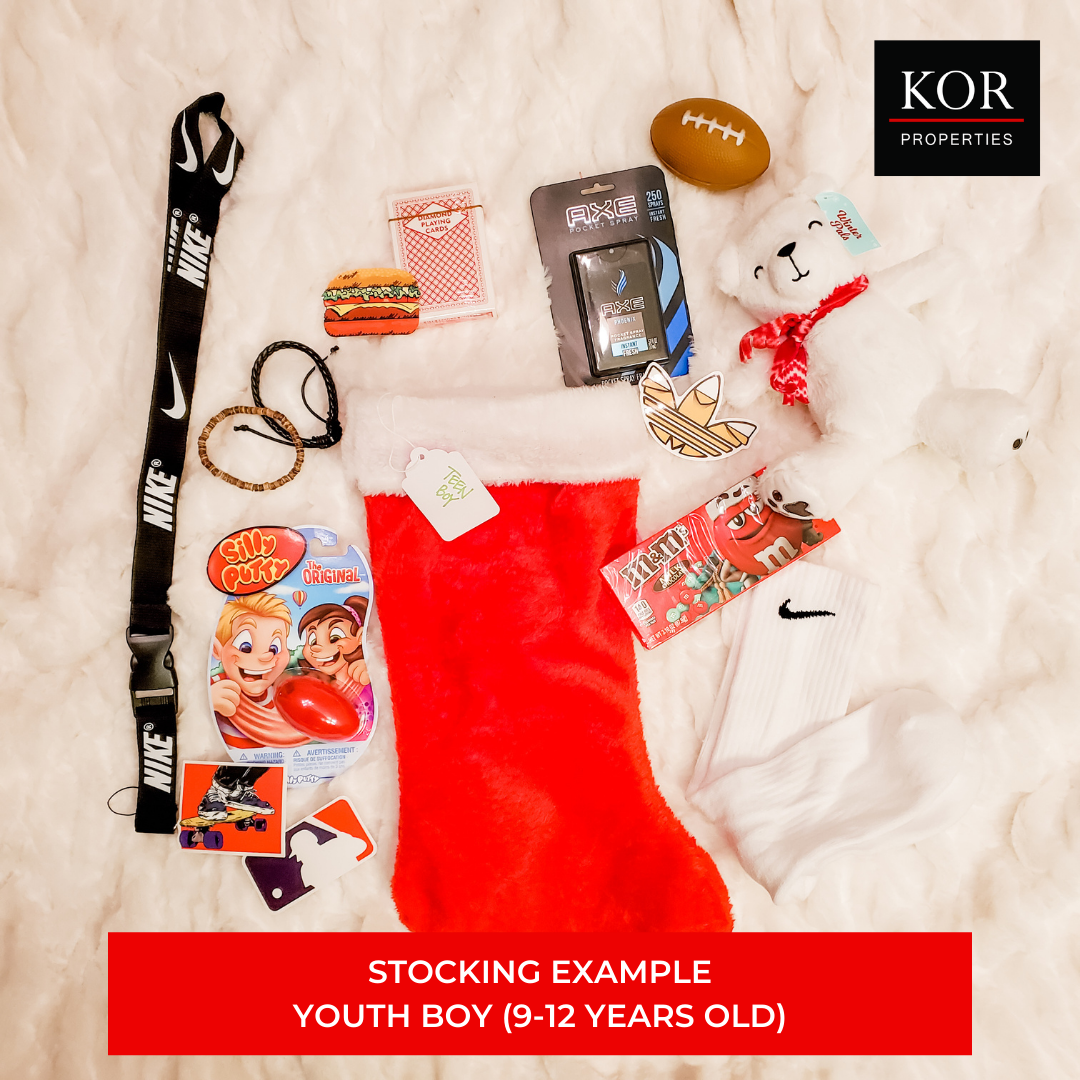 Stocking – Dollar Tree
Silly Putty – Dollar Tree
Nike Socks – Ross
Nike Lanyard – Amazon
Bracelets – Amazon
Stickers – Amazon
Football – Amazon
Axe Spray – Target
M & Ms – Target
Stuffed Animal – Target
Thank you!