KOR Properties was recently featured in Up Close Publications. Here is the great article written by Jamie Killin, published March 2, 2020.
KOR Properties Builds Community in Mesa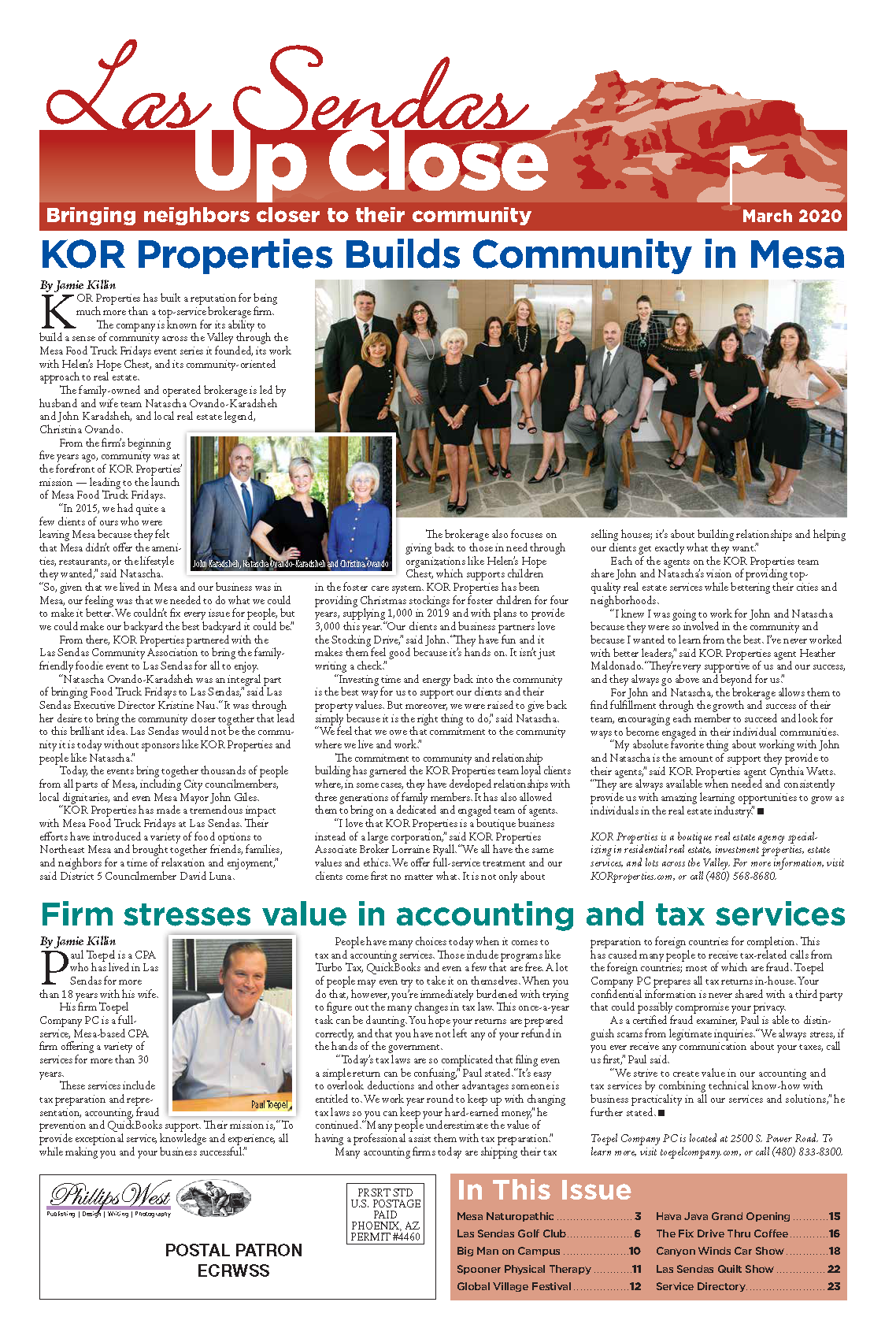 KOR Properties has built a reputation for being much more than a top-service brokerage firm.
The company is known for its ability to build a sense of community across the Valley through the Mesa Food Truck Fridays event series it founded, its work with Helen's Hope Chest, and its community-oriented approach to real estate.
The family-owned and operated brokerage is led by husband and wife team Natascha Ovando-Karadsheh and John Karadsheh, and local real estate legend, Christina Ovando.
From the firm's beginning five years ago, community was at the forefront of KOR Properties' mission — leading to the launch of Mesa Food Truck Fridays.
"In 2015, we had quite a few clients of ours who were leaving Mesa because they felt that Mesa didn't offer the amenities, restaurants, or the lifestyle they wanted," said Natascha. "So, given that we lived in Mesa and our business was in Mesa, our feeling was that we needed to do what we could to make it better. We couldn't fix every issue for people, but we could make our backyard the best backyard it could be."
From there, KOR Properties partnered with the Las Sendas Community Association to bring the family-friendly foodie event to Las Sendas for all to enjoy.
"Natascha Ovando-Karadsheh was an integral part of bringing Food Truck Fridays to Las Sendas," said Las Sendas Executive Director Kristine Nau. "It was through her desire to bring the community closer together that lead to this brilliant idea. Las Sendas would not be the community it is today without sponsors like KOR Properties and people like Natascha."
Today, the events bring together thousands of people from all parts of Mesa, including City councilmembers, local dignitaries, and even Mesa Mayor John Giles.
"KOR Properties has made a tremendous impact with Mesa Food Truck Fridays at Las Sendas. Their efforts have introduced a variety of food options to Northeast Mesa and brought together friends, families, and neighbors for a time of relaxation and enjoyment," said District 5 Councilmember David Luna.
The brokerage also focuses on giving back to those in need through organizations like Helen's Hope Chest, which supports children in the foster care system. KOR Properties has been providing Christmas stockings for foster children for four years, supplying 1,000 in 2019 and with plans to provide 3,000 this year. "Our clients and business partners love the Stocking Drive," said John. "They have fun and it makes them feel good because it's hands on. It isn't just writing a check."
"Investing time and energy back into the community is the best way for us to support our clients and their property values. But moreover, we were raised to give back simply because it is the right thing to do," said Natascha. "We feel that we owe that commitment to the community where we live and work."
The commitment to community and relationship building has garnered the KOR Properties team loyal clients where, in some cases, they have developed relationships with three generations of family members. It has also allowed them to bring on a dedicated and engaged team of agents.
"I love that KOR Properties is a boutique business instead of a large corporation," said KOR Properties Associate Broker Lorraine Ryall. "We all have the same values and ethics. We offer full-service treatment and our clients come first no matter what. It is not only about selling houses; it's about building relationships and helping our clients get exactly what they want."
Each of the agents on the KOR Properties team share John and Natascha's vision of providing top-quality real estate services while bettering their cities and neighborhoods.
"I knew I was going to work for John and Natascha because they were so involved in the community and because I wanted to learn from the best. I've never worked with better leaders," said KOR Properties agent Heather Maldonado. "They're very supportive of us and our success, and they always go above and beyond for us."
For John and Natascha, the brokerage allows them to find fulfillment through the growth and success of their team, encouraging each member to succeed and look for ways to become engaged in their individual communities.
"My absolute favorite thing about working with John and Natascha is the amount of support they provide to their agents," said KOR Properties agent Cynthia Watts. "They are always available when needed and consistently provide us with amazing learning opportunities to grow as individuals in the real estate industry."
KOR Properties is a boutique real estate agency specializing in residential real estate, investment properties, estate services, and lots across the Valley. For more information, visit KORproperties.com, or call (480) 568-8680.