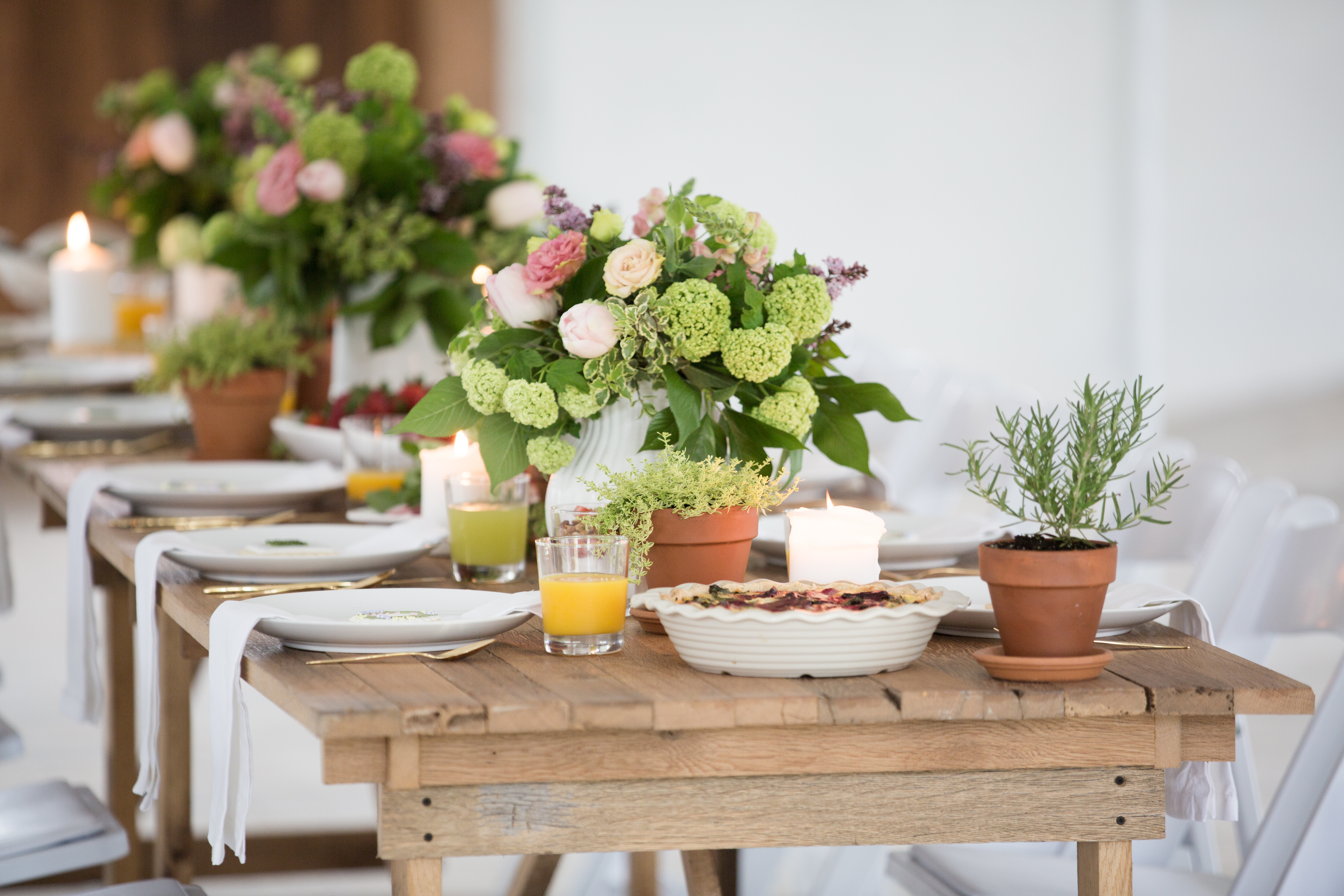 Spring is the most glorious time in the Valley and the perfect time to dine outside during the day. Are you super busy and don't have much time to plan? This Brunch Plan for Busy People is easy to execute and will have you enjoying the day in no time!

1) Make picking up the house easy – grab laundry baskets and throw everything that you don't have time to deal with into the baskets. You can sort it all out once it is 100 degrees outside!
2) Open the windows and turn on your favorite morning tunes – Jack Johnson, Jazz or a lively Brunch Mix from Pandora. Brunch needs music!
3) Set your table outside. Fill a Mason jar with flowers and herbs from the yard for a great centerpiece!

4) Make mimosas with fresh squeezed Arizona orange juice. Don't have oranges? There are great fruits stands in the area…try BB Citrus Farms 3404 N. Val Vista Drive just south of the 202.

5) Serve Spinach and Goat Cheese Quiche (recipe below)
Easily made ahead, this can be served with a simple green salad. Short on time? Pre-order delicious quiche from Chez Vous in Scottsdale.

6) Do dessert! Lemon Cake with fresh blueberries and Noosa coconut yogurt is always a favorite. No time to bake? Try Trader Joe's Coffee Cake served with whipped cream and sliced strawberries or serve a fun assortment of local donuts with coffee.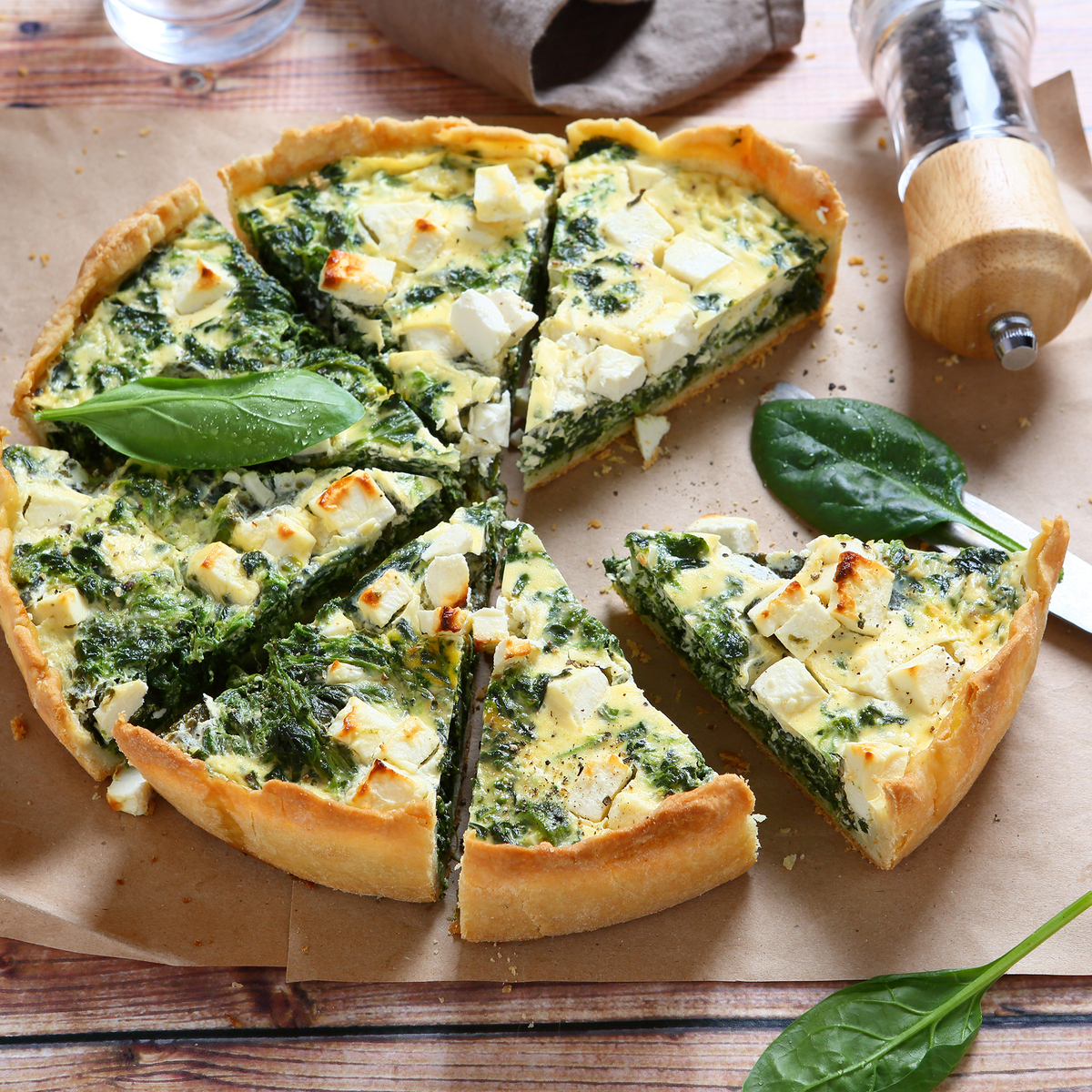 Spinach and Goat Cheese Quiche
If you have the time, it is always preferable to make your own crusts – but, if you find that task daunting, don't hesitate to use a good quality pre-made pie crust.
Ingredients:
12 ozs baby spinach
1 shallot finely diced
2-3 teaspoons olive oil
5 large eggs
1 1/2 cups of heavy cream
2 each 11 oz logs of goat cheese (I like Silver Goat from Trader Joe's)
2 pie shells ( I like Wholly Wholesome frozen pie shells available at Sprouts or Whole Foods)
Salt, Pepper and Tabasco

Directions:
1) Preheat oven to 350 degrees F.
2) Heat a large pan to medium high and add oil. Sauté shallots until translucent, then add spinach (in batches) and cook until wilted. Transfer spinach to a strainer to drain off any remaining liquid.
3) In a high sided bowl, combine eggs, cream and 1 log of crumbled goat cheese and blend throughly with an immersion blender (alternately use a regular blender). Season with salt, pepper and Tabasco.
4) Place frozen pie shells on a sheet pan. Divide spinach between both pie shells. Crumble the remaining log of goat cheese and divide between both shells.
5) Give the egg mixture a quick stir and divide the custard evenly between the two shells. If you have any custard left it can be poured into a ramekin or two and baked for tomorrow's breakfast!
6) Bake the quiche for 30 minutes or until set and lightly golden. Cool for at least 10 minutes before serving.
7) If making the night before, refrigerate, and then bring to room temperature before reheating. Cover with foil and reheat at 350 degrees until warmed through. This quiche can also be frozen just bring to room temp before reheating.