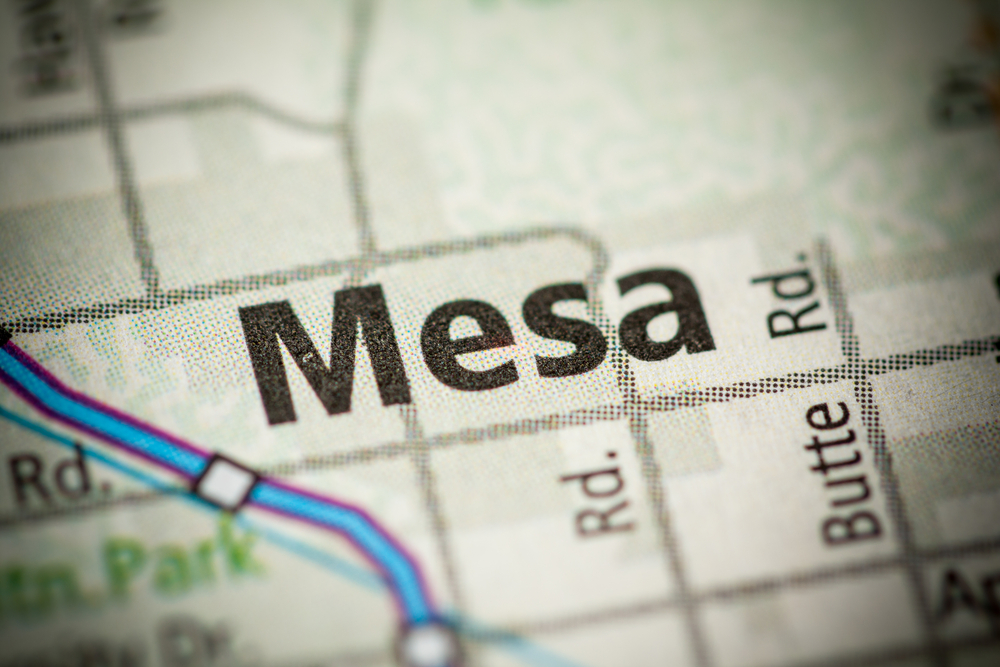 As the Chair of the City of Mesa Economic Development Advisory Board, I love to update our clients on what is happening in the City of Mesa, especially as it relates to economic development. Economic development is important for homeowners because there is a strong relationship between economic development and household wealth, housing quality, and growth. It makes sense when you think about it: better quality jobs = higher household incomes = higher quality housing demand = higher property values for all. Just look at what has happened around Intel in Chandler…after the Intel announcement two years ago, we watched housing values jump by almost $30 per square foot in the course of 60 days. This is what business expansion and job creation can do for homeowners!
There are several great things happening around Mesa right now that you should know about, so here is the latest scoop!

Elliot Tech Corridor
A month ago, I was honored to attend the opening of the $2 billion Apple Global Command Center in Mesa on the Elliot Tech Corridor. This huge 1.3 million square foot facility is the worldwide hub for all Apple data centers and supports Apple's iCloud, iMessage, and iTunes among other platforms.

The Elliot Tech Corridor runs along the north and south sides of Elliot Road from the 202 freeway to Signal Butte and has been developed by the City of Mesa to support high-growth, high technology businesses with amazing infrastructure, including extensive power capacity, and advanced fiber networks.
While you may not yet have heard of the Elliot Tech Corridor, the Apple announcement has garnered global attention for the area. More than half of the parcels of land along the Corridor have changed hands in the last 18 months. In March, Edgecore broke ground on the first of several buildings at their Mesa Data Center Campus which is expected to eventually feature 1.25 million square feet of space. EdgeConnect and Digital Realty have also purchased property for development and Dignity Health will be opening their newest hospital on the Corridor in the coming month.

Phoenix-Mesa Gateway Airport and Skybridge
Phoenix-Mesa Gateway Airport is a huge asset for Mesa and will be the key to growth in the SE Valley for decades to come. With its three massive runways, Gateway Airport is perfectly poised to absorb the coming population growth and manage air traffic overflow from Sky Harbor. It is expected that by 2030 the metro Phoenix area will grow by another 2 million people, so this airport is critical! The number of flights going in and out of Gateway increases each year. So far in 2018, California Pacific Airlines just added nonstop flights to Carlsbad, Allegiant recently added flights to St. George, Utah, Tucson, Bellingham, Washington, and Provo, Utah, and Flair will add flights to Edmonton, Canada starting late in 2018.
The other exciting news at Mesa-Gateway Airport is the opening of SkyBridge Arizona, a 360-acre development offering the nation's first international air cargo hub. Housing both Mexican and United States Customs operations, SkyBridge Arizona allows distributors sending air cargo to clear Mexican customs in Mesa before flying in to Mexico. The customs process normally takes up to two weeks in Mexico and SkyBridge Arizona reduces the time to less than two days. Expect to see over 2,000 annual cargo flights added to the air traffic patterns in the next few years. Governor Ducey expects SkyBridge Arizona to lead to the creation of 17,000 new and indirect jobs.
With all this growth, city leaders will be most challenged to protect the airport from housing encroachment. This will be important for citizens to watch, especially in the coming months.

Opportunity Zones
The most recent federal tax bill established the creation of approximately 8,500 Opportunity Zones throughout the United States and territories. Referred to as a "once in a lifetime opportunity," Opportunity Zones have the ability to accelerate growth and employment in low-income census tracts while providing investors unprecedented tax benefits (imagine a 1031 exchange on steroids). Mesa has 11 strategically chosen Opportunity Zones, which are getting attention from national investors particularly surrounding Downtown Mesa, Phoenix-Mesa Gateway Airport, and Falcon Field. While the government has yet to release all of the regulations on these Opportunity Zones, the window to achieve the maximum benefit is limited, with the highest returns reserved for investments made in 2018. The caveat is this benefit is for employment creation and not single-family housing creation. It is important that the City of Mesa will protect these zones and work to attract great companies to bring more jobs to Mesa.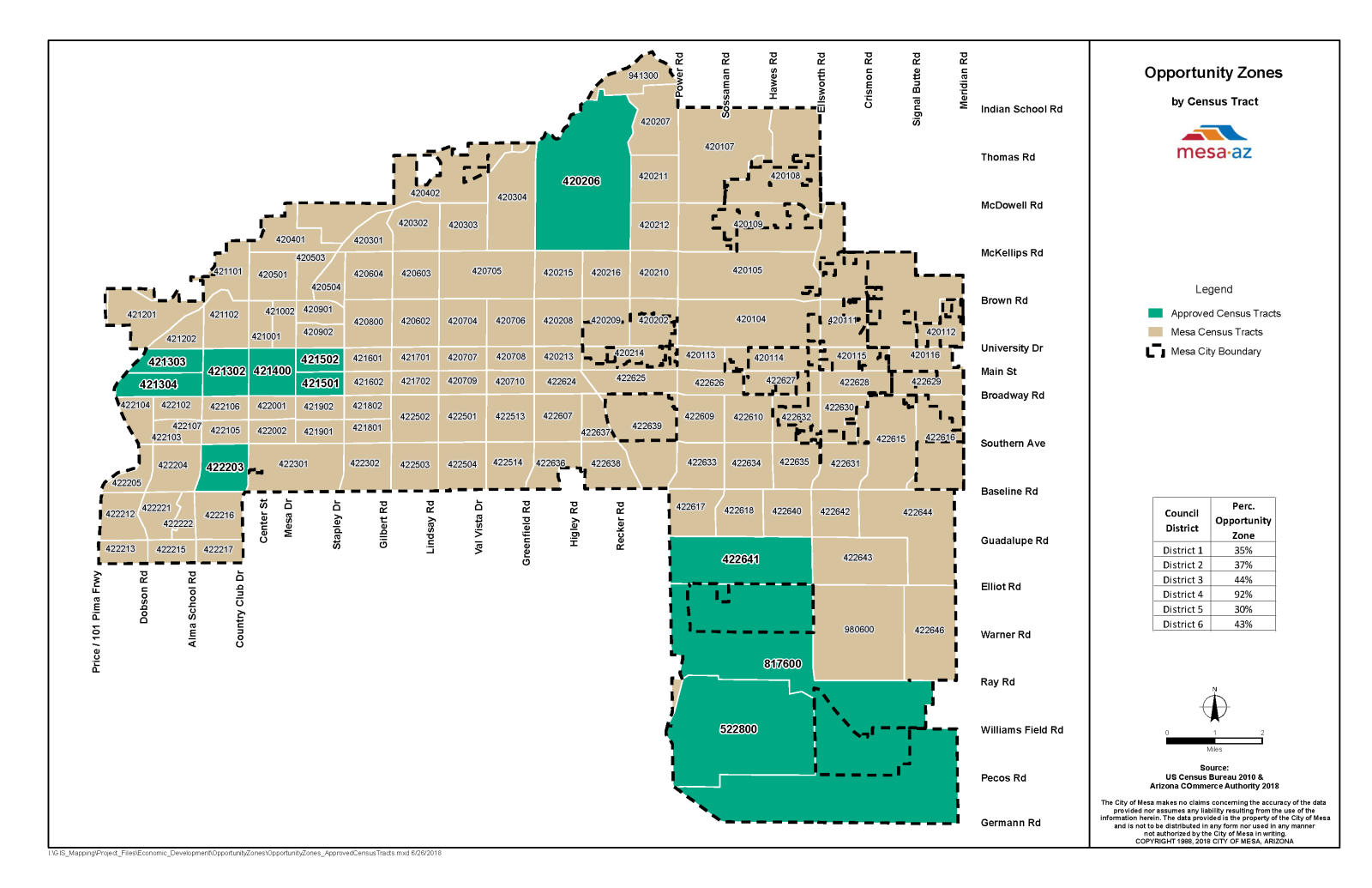 The Union
Many clients have asked me why Mesa doesn't have great looking office buildings like those along Tempe Town Lake and my answer has always been, "Because we haven't had a developer willing to do so!" Well, after almost two years of planning and negotiation, Mesa selected the prestigious Lincoln Property Co. and Harvard Investments to develop the soccer fields at Riverview and create a 1.35 million square foot mixed use district called The Union. This project will provide Class A office space designed to attract premier companies and their employees. This project will definitely reshape the Riverview area!
A Strong Economy
Job creation, household wealth, and home values are on the rise across the Valley. We have the tailwind of a strong national economy, but our local success is also the product of many years of economic planning and diversification in the Valley. For decades our economy was based exclusively on construction and housing. During the recession our business and community leaders in Mesa and throughout the Valley realized that a diverse economy was the key to or success. With diligence and vision, we are well on our way and that is why the Valley of the Sun is the fasted growing region in the country and one of the hottest markets for growth.
The challenge now is to stay the course and encourage our city leaders to continue to advocate for great projects, amenities, and job creation. Housing developers are aggressive and they push their projects with ferocity. By contrast Fortune 500 companies have to be wooed. Do you see the challenge? At this critical turning point in Mesa, our future will be determined by the thoughtful decisions made by our leaders. We want Mesa to be a great city with enviable mixed-use projects, great high wage jobs for our citizens, rising property values, and great amenities for all our citizens to enjoy.

Mesa native and Las Sendas resident Natascha Ovando-Karadsheh is the Chair of the City of Mesa Economic Development Advisory Board, Associate Broker and Owner of KOR Properties, and the Founder of Mesa Food Truck Fridays. She is a graduate of Princeton University and The French Culinary Institute and is a member of Who's Who in Luxury Real Estate.