At long last, the weather is cooling, which means it is finally time for outdoor dining and entertaining!

Over the last year, we have found buyers are placing more and more priority on upgraded backyards and outdoor living spaces. In many cases, the yard has been the deciding factor in which house they choose to purchase.

Years ago, an upgraded yard was a decked pool, some curbing, gravel, and a built-in barbeque. Not today. Buyers are interested in a resort feel, with landscaping that is lush but still desert friendly. There is a lot of interest in extended patios for ample outdoor seating and heating/cooling systems, to make those outdoor living spaces comfortable year round. We also are seeing a lot of interest in focal point fireplaces, TVs and outdoor cooking spaces, complete with sinks, mini refrigerators and pizza ovens.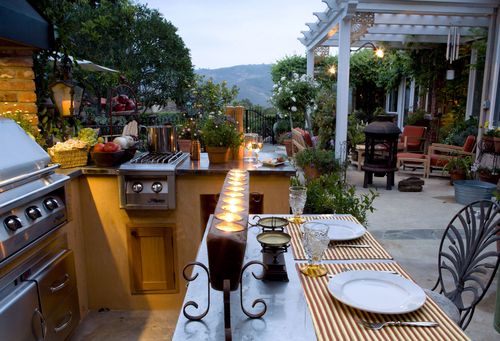 So, where do you begin with a backyard remodel? We recently had the opportunity to visit Imagine Backyard Living, a new backyard design store in North Scottsdale. The showroom really was impressive, and offered a multitude of vignettes, showcasing all the latest backyard trends and technologies. They offer great backyard design services onsite, and even have financing available for backyard remodels. Our favorite gadget was an amazing misting fan capable of dropping the patio temperature by 25 degrees. It is already on our Christmas wish list!

So, what is the return on investment on a backyard redo? Appraisers don't necessarily add value for outdoor living rooms, however, buyers surely do. If you are planning on selling your home in the next few years, a backyard refresh is always a great idea to improve its marketability. Do your research and talk to the experts. Then, make sure you get at least a season or two after completion to enjoy it yourself.
Imagine Backyard Living is located at 15551 N. Greenway-Hayden Loop, in Scottsdale. Visit the website at www.imaginebackyard.com.